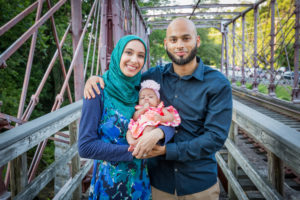 Hi I'm Rehma! I'm a business owner, lifestyle blogger, henna artist, wife and mama who tries to make everyday an adventure.
This is my hubby, Shehab and our baby girl Hoda. We live in Columbia, Maryland.  I am kind of a coffee addict and our favorite TV show is Game of Thrones.
My Story
I was born and raised in Maryland and married my best friend in 2012. He is half egyptian, half guyanese and I am half Indian, half Pakistani, so our daughter is a one of a kind hybrid.
After our daughters dramatic entrance into the world in June 2016, I quit my full time job and now work as a full time mom and run my business 'Henna Ink.' from home.
I love my friends, they keep me sane. My family is pretty awesome too, but I am definitely the one with all the jokes.
I am passionate about art and design. I love to cook (sometimes) and am an absolute DIY junkie! Follow the Hady life and look out for awesome DIY projects, modest fashion finds, recipes and mom hacks!
XOXO
I would love to hear from you, send me an email, find me on Facebook, Pinterest and Instagram
hello@thehadylife.com