How to Throw a Harry Potter Inspired Baby Shower

12+ Harry Potter Themed Party Ideas
Two weeks ago, my sisters, cousin, and I threw a Harry Potter inspired baby shower for our sister-in-law! We are so thrilled that our family is growing and soon enough all the kids will be running around ruining everything. Can't wait…
Our sister-in-law requested a Harry Potter themed baby shower and wanted all aspects to be a surprise. She pinned a ton of things on Pinterest but we decided to create our own board to keep her out of the loop. Safe to say she was pleasantly surprised!
We DIY-d pretty much everything you will see including, centerpieces, dessert table décor, food table décor and photo-booth set up. Everything turned out better than we could have imagined it. It took us several weekends to put everything together but it was so worth it! I will try my best to leave all the tutorials for you so you can create your own Harry Potter themed party!
Be sure to Pin on Pinterest!! For collaborations, email hello@thehadylife.com
1. Table Decorations and Place Settings
Let's start with the seating arrangement and table decor. We decided to do 4 rows of tables and chairs to represent the 4 houses, Gryffindor, Slytherin, Hufflepuff and Ravenclaw. Each house has it's own color. (i.e Gryffindor= Red, Slytherin= Green). We wrapped the utensils in the different colored napkins to represent the house colors.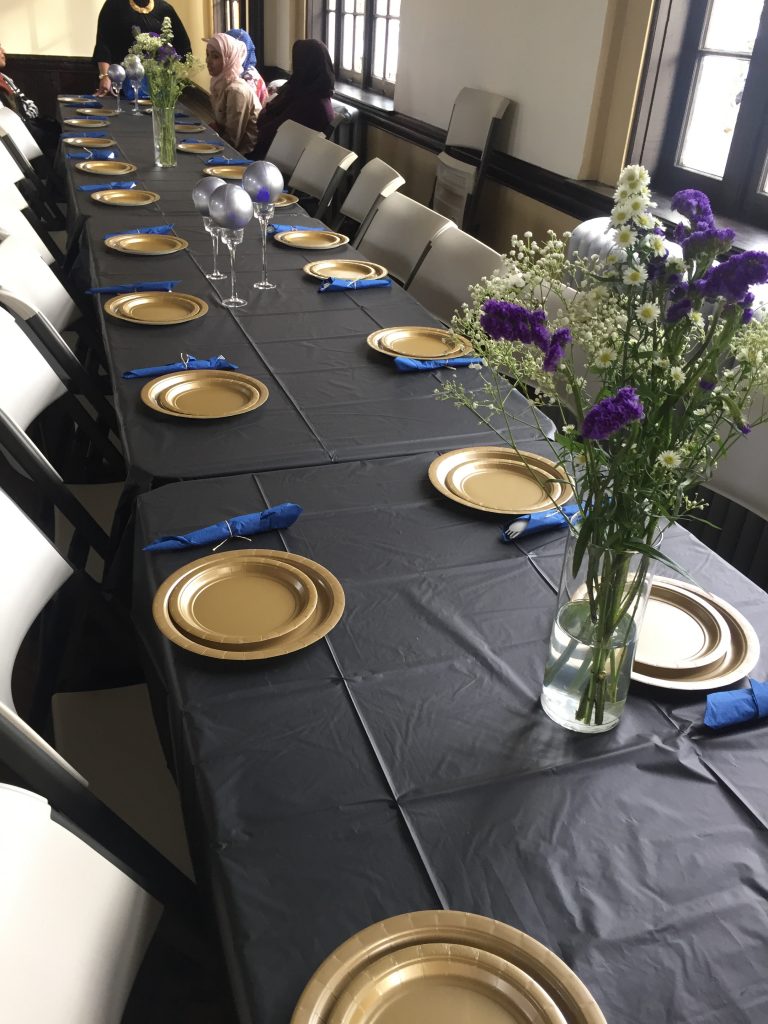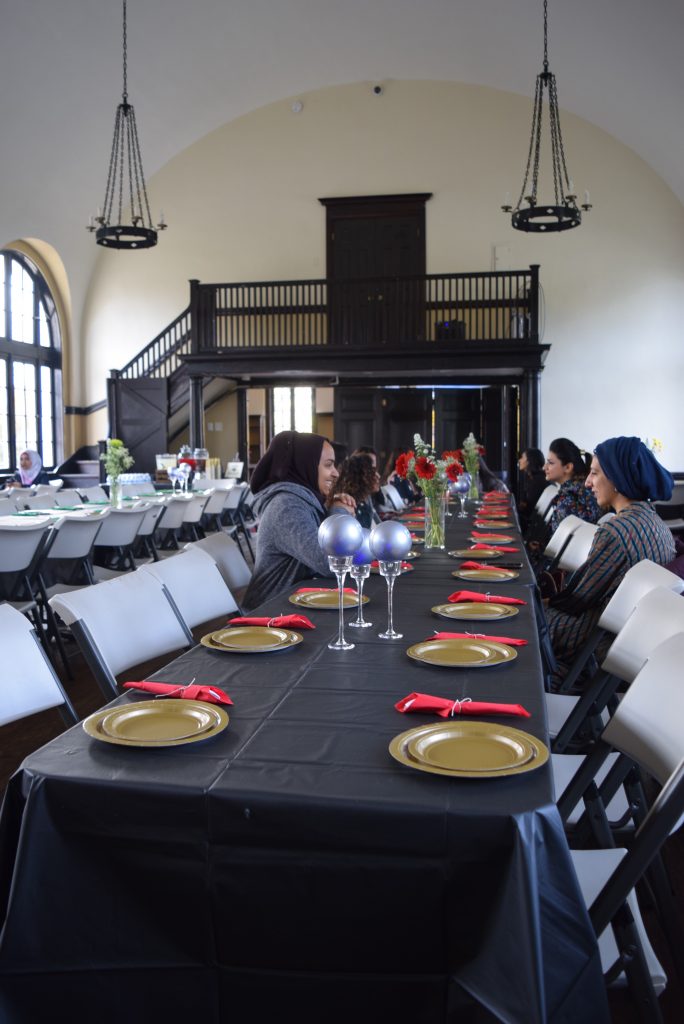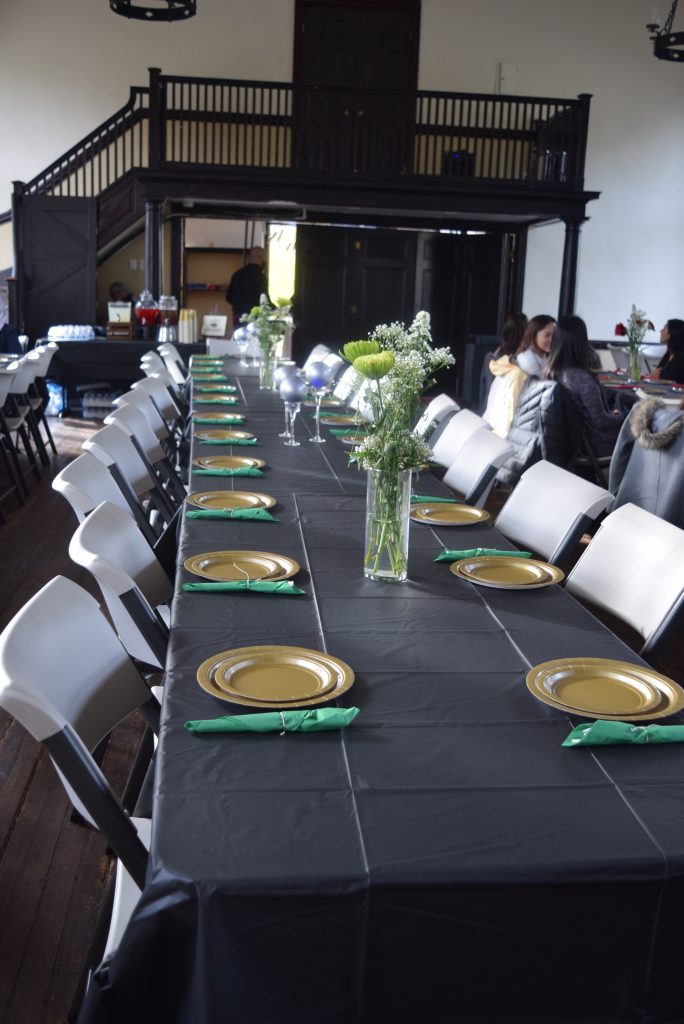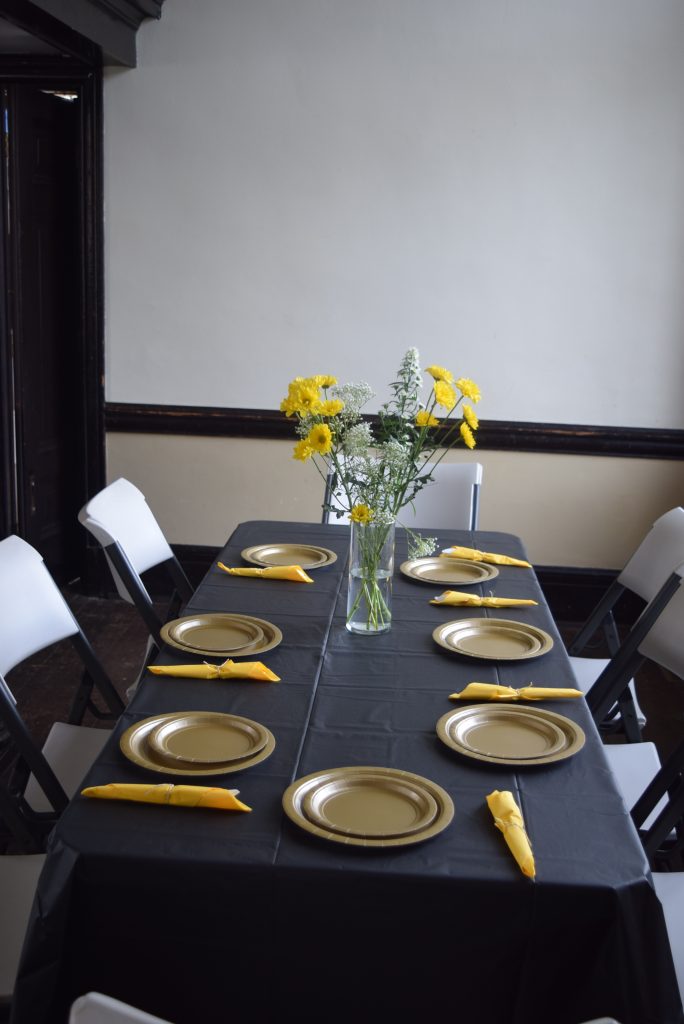 2. Centerpieces
For centerpieces we made Prophecy Orbs from Harry Potter and the Order of the Phoenix. We used clear Christmas ornaments and painted the inside silver with large paint strokes. To make the orbs look lit up, we put blue LED lights inside. The orbs are sitting on candle holders.
3. 'Free Dobby' Station
Every baby shower needs games or an activity center. For this baby shower we set up two activity stations, A 'Free Dobby' station as well as an 'Advice' station for the new mom and dad to be.
For the 'Free Dobby' station, we thought it would be fitting to have our guests decorate socks for the new baby.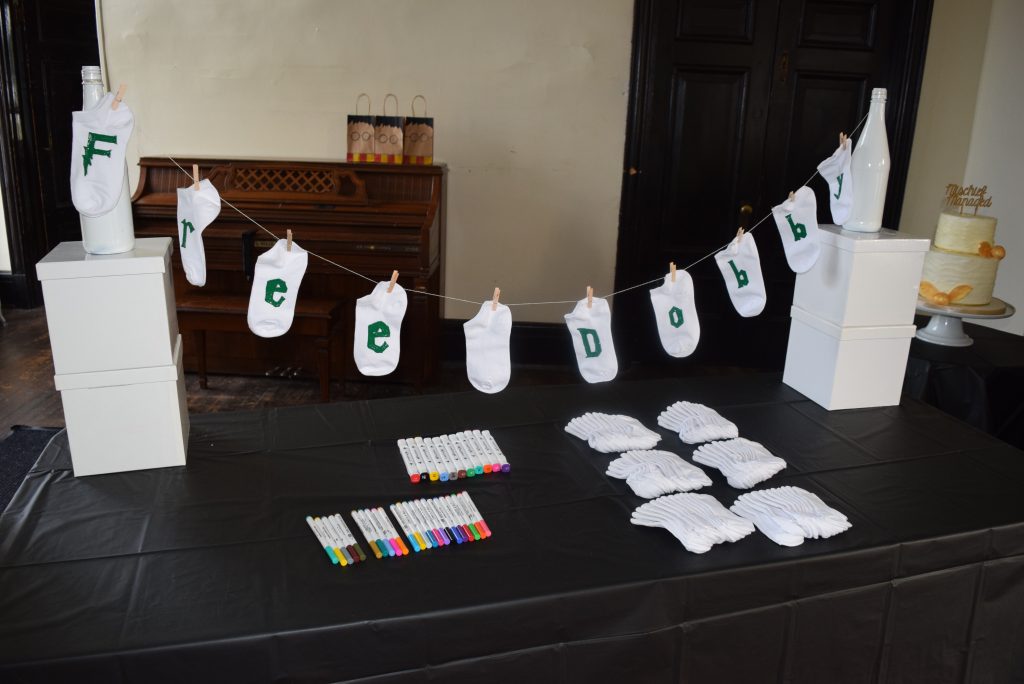 4. Advice Station
Our Advice station was pretty straight forward. We used a small suitcase to hold the advice cards. The cutest part is the owl cage with a stuffed Hedwig!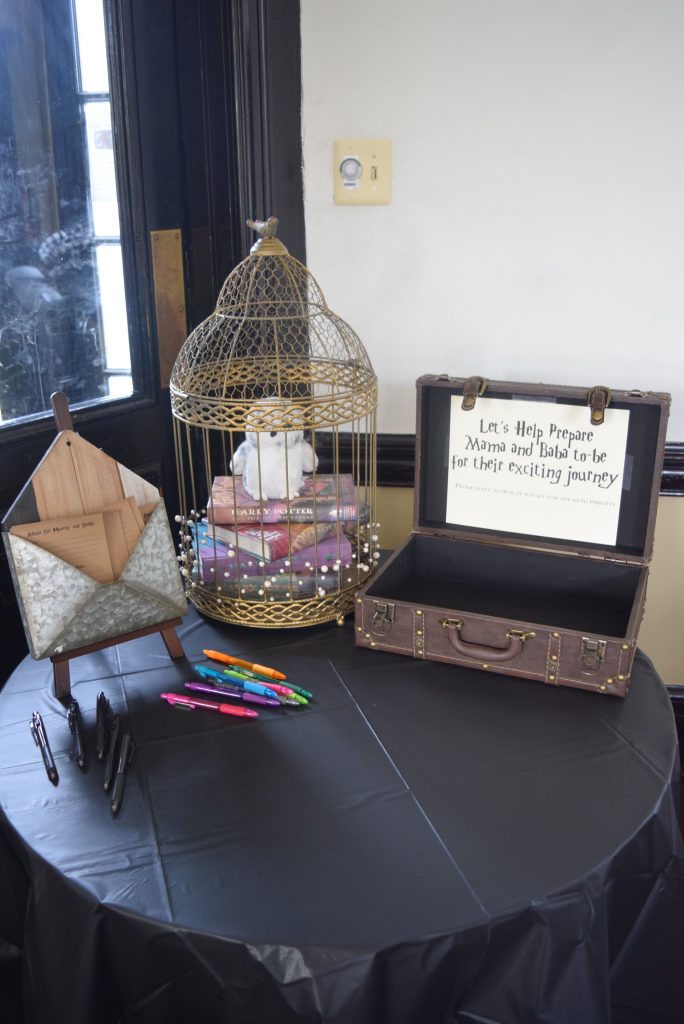 5. Hogwarts Acceptance Letter Photo Backdrop
For the photo booth, we decided to use the fireplace in the venue to our advantage. We created a bunch of acceptance letters to Hogwarts, strung them on several strings and created the illusion of letters coming out of the fireplace. We bought a pack of 50 envelopes and wrote "Baby Khan" and an address on the envelopes. To make the wax seal, I cut THIS printable and glued them on.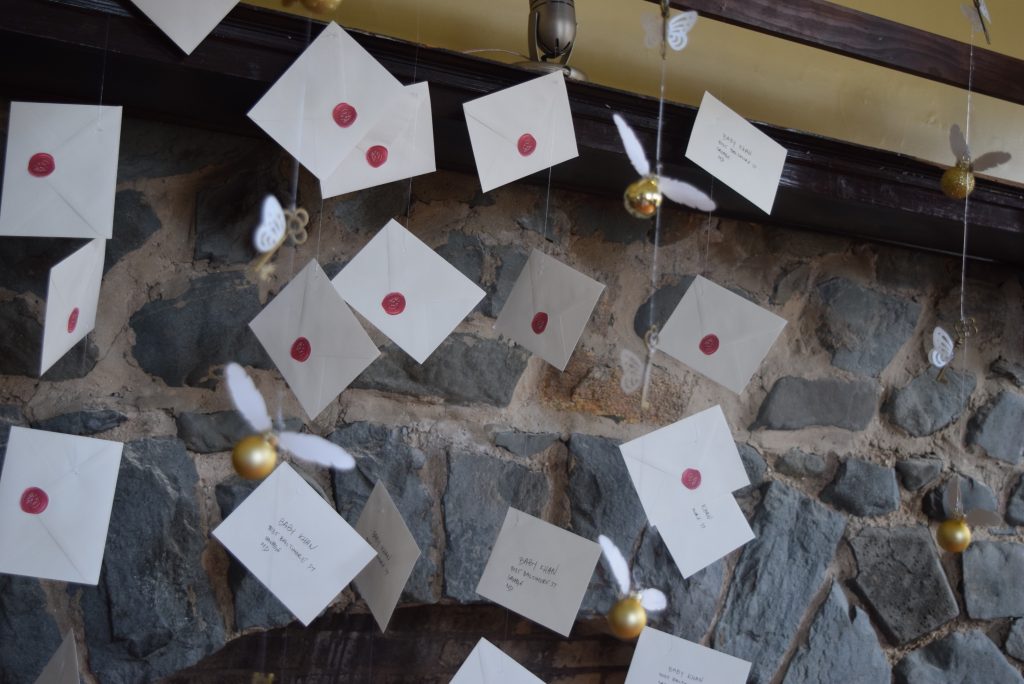 6. 'Golden Snitch' and 'Flying Keys' Photo backdrop
The other part of the photo booth was made with 'Golden Snitchs' and 'Flying Keys.' For the golden snitch, we used gold mini Christmas ornaments and for the feathers, we used a feather shaped paper cutter to cut out all the feathers that we eventually glued onto the ornaments.
The 'Flying Keys' were super easy to make as well. We bought a pack of 30 vintage, antique keys from Amazon and glued the wings on it. To make the wings, we used a butterfly shaped paper cutter.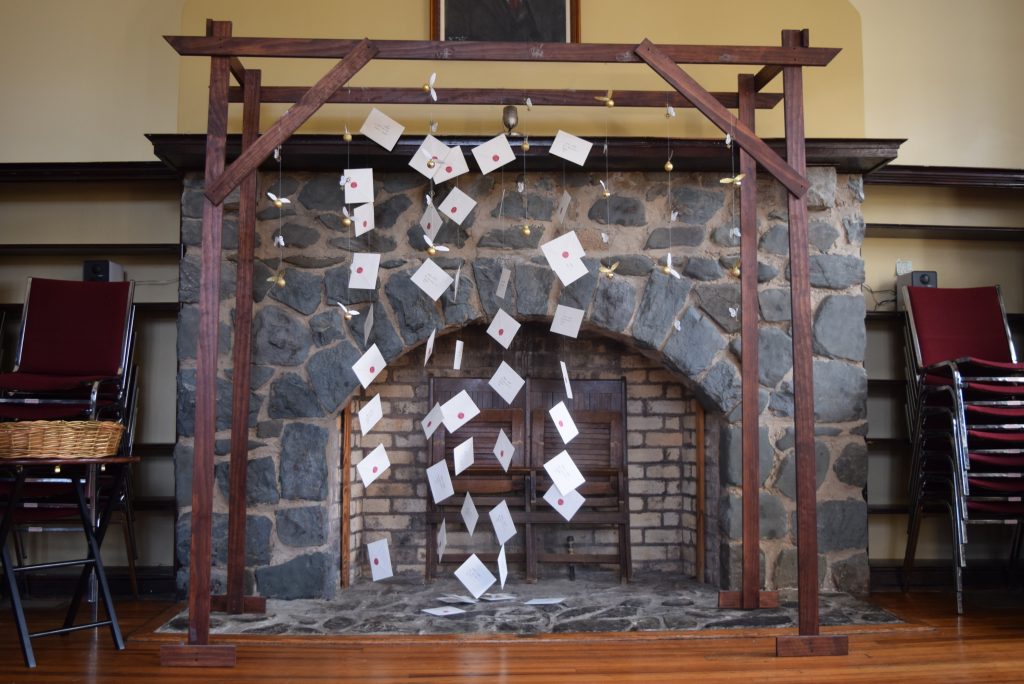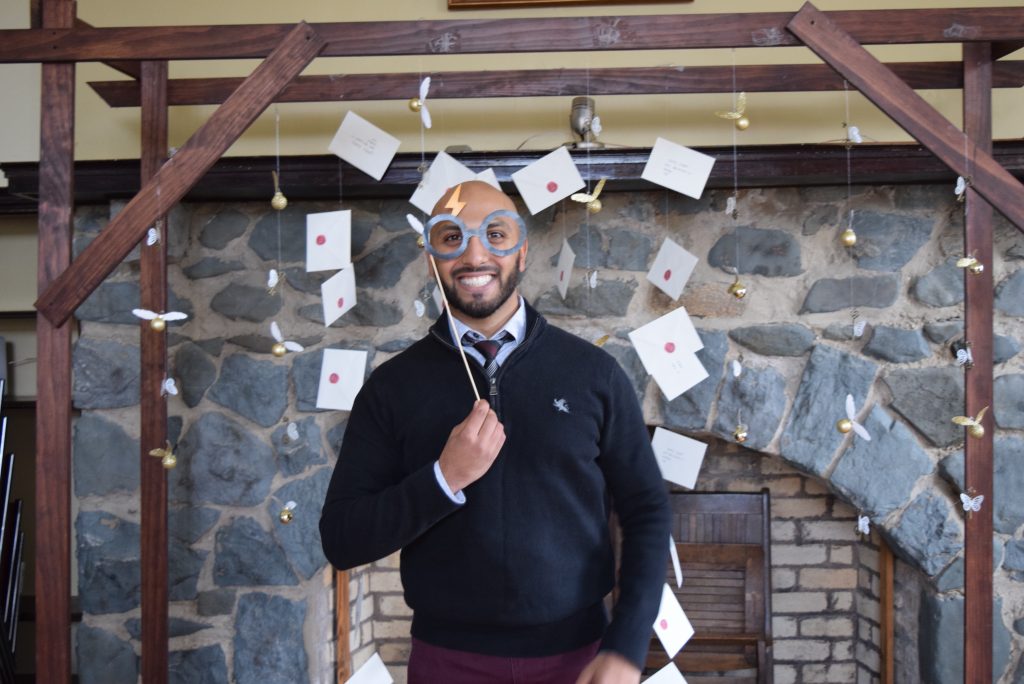 7. The Three Broomsticks
Ok, let's get to the most important part of the shower, the food! We came up with creative Harry Potter themed names for all the food like Slytherin Spaggetti, Mcgon-EGG-all Egg sandwiches, Professor Sprouts veggie garden, etc.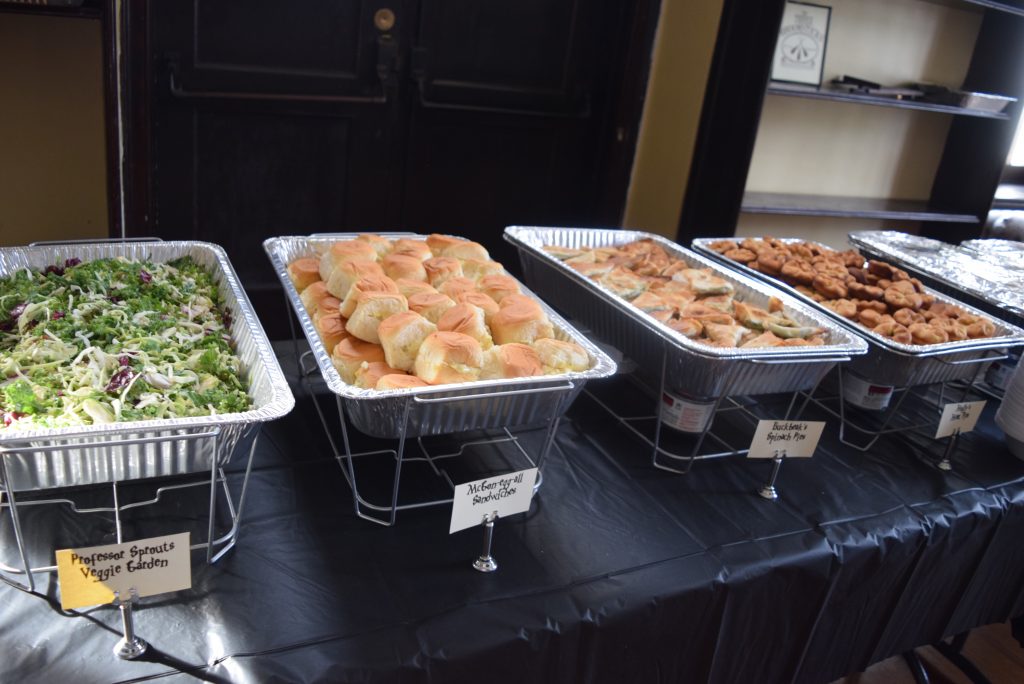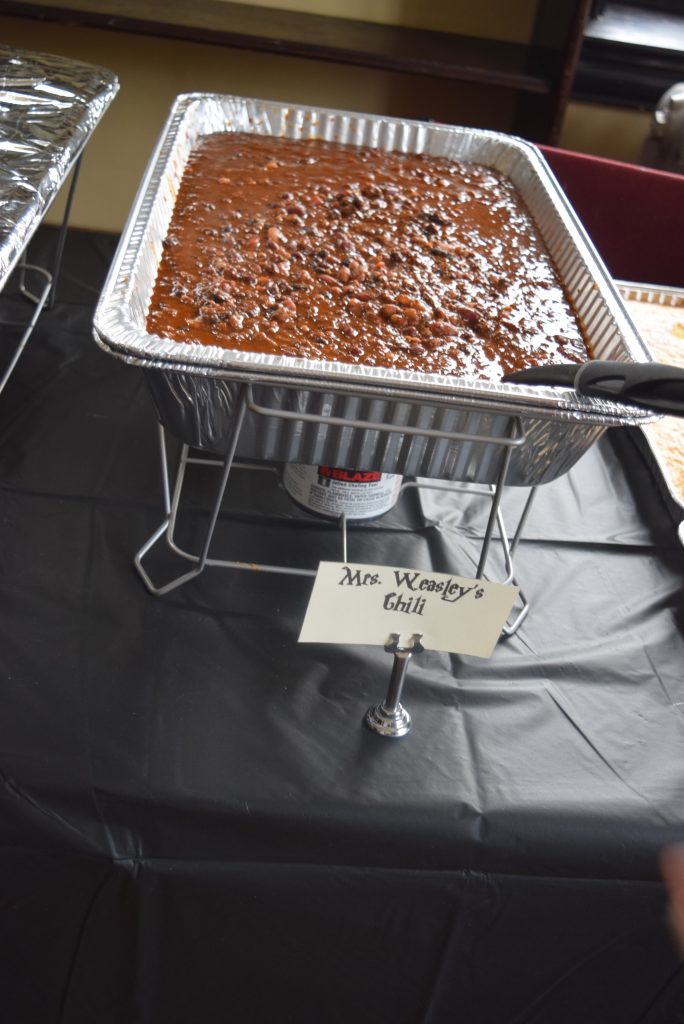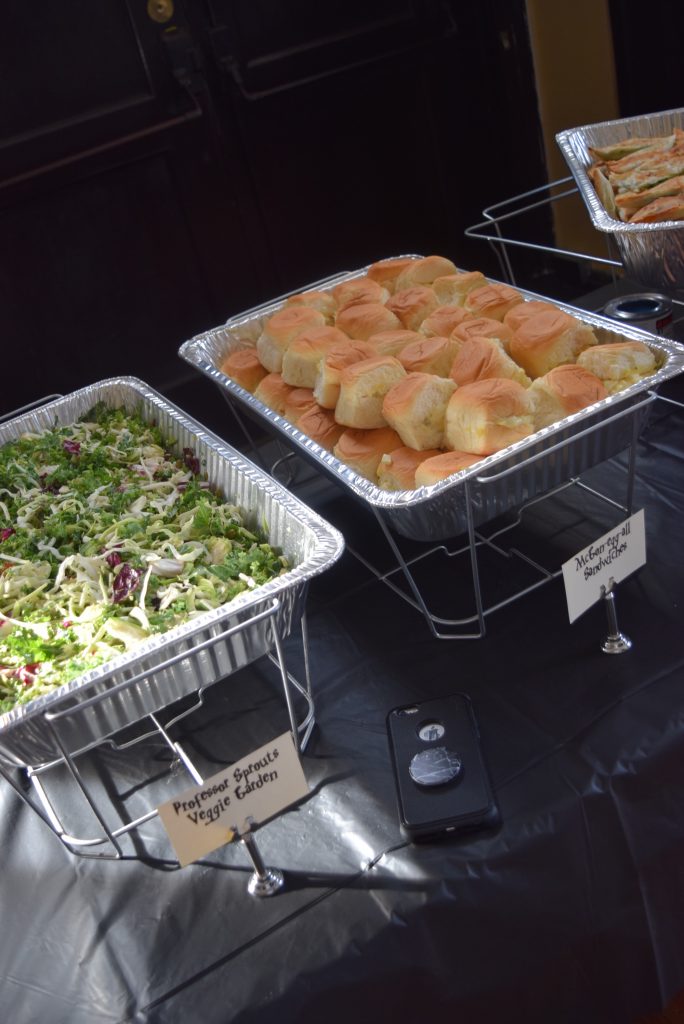 For the decoration on the food table, we wanted to make it look like the feast from the first Harry Potter book with the floating candles above the table and the starry night. For a tutorial on the floating candles check out THIS post.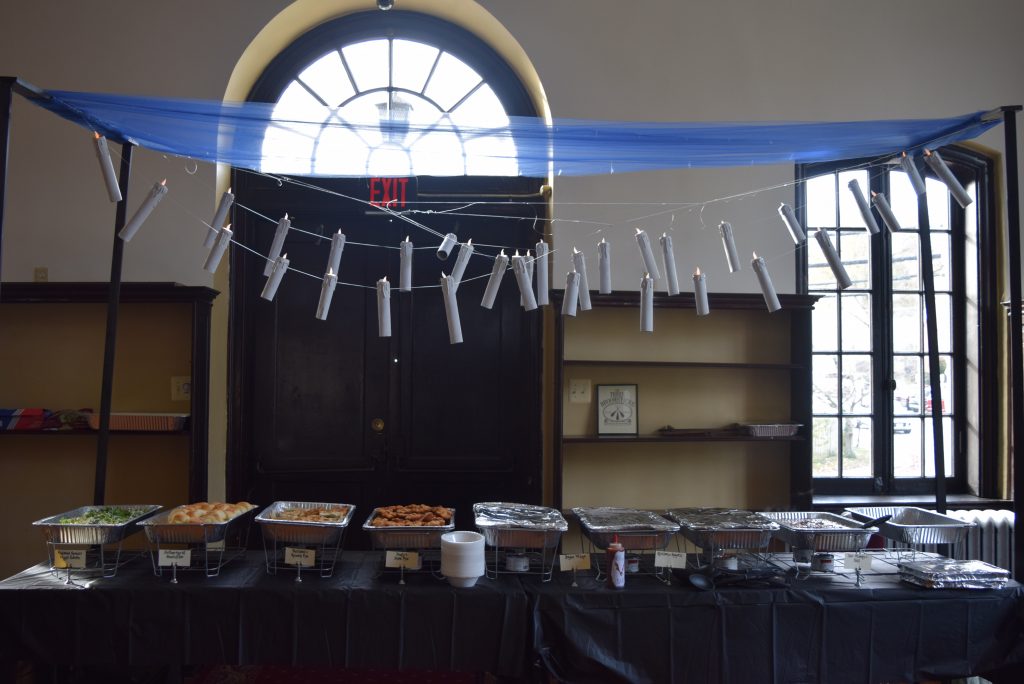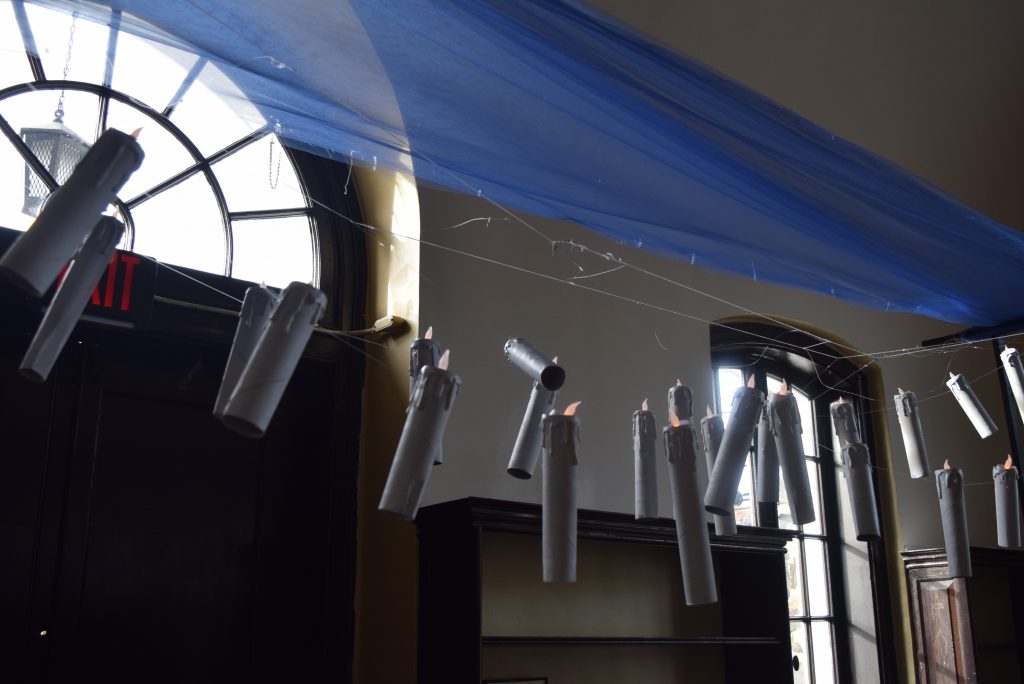 8. The Leaky Cauldron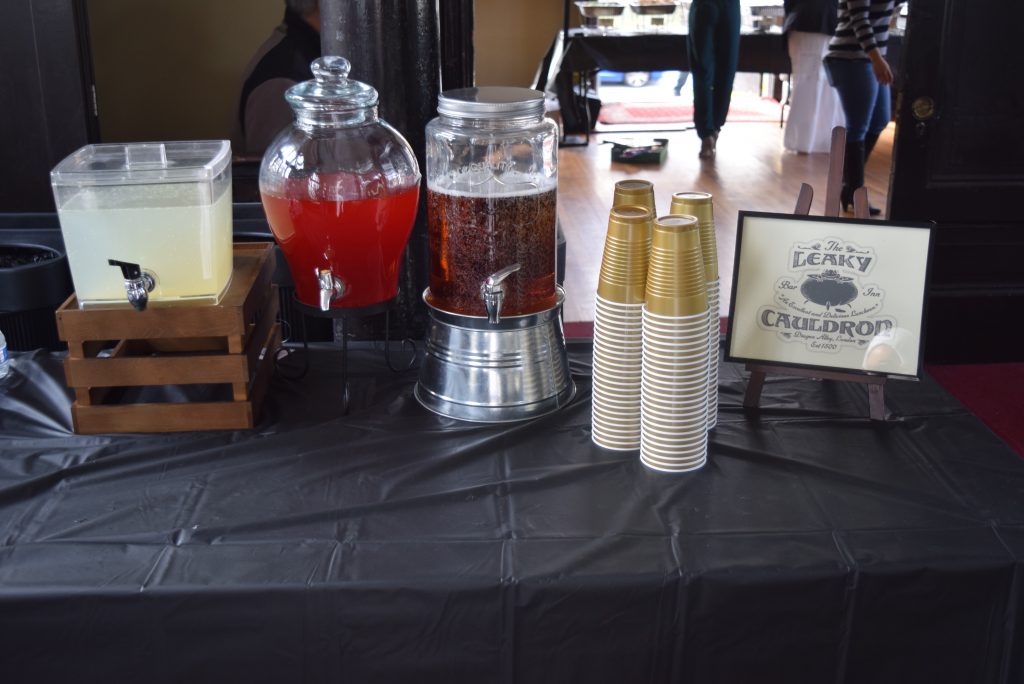 9. HoneyDukes
This was my favorite part of the whole baby shower!  The dessert table came together beautifully with all the different elements from HoneyDukes. We transformed this dessert table to look like we were in an actual candy shop! We had everything from 'Jelly Slugs to 'chocolate frogs and every flavor jelly beans! We even made a rice krispy 'Nagini'!! The show stopper on this table was the HoneyDukes sign that you can get a tutorial from HERE.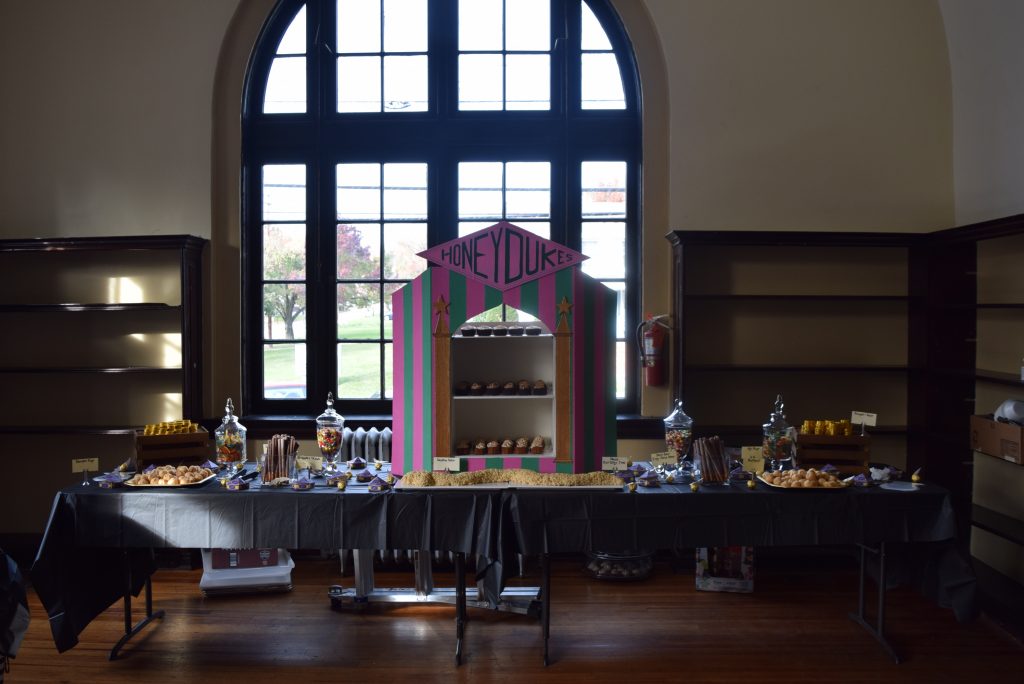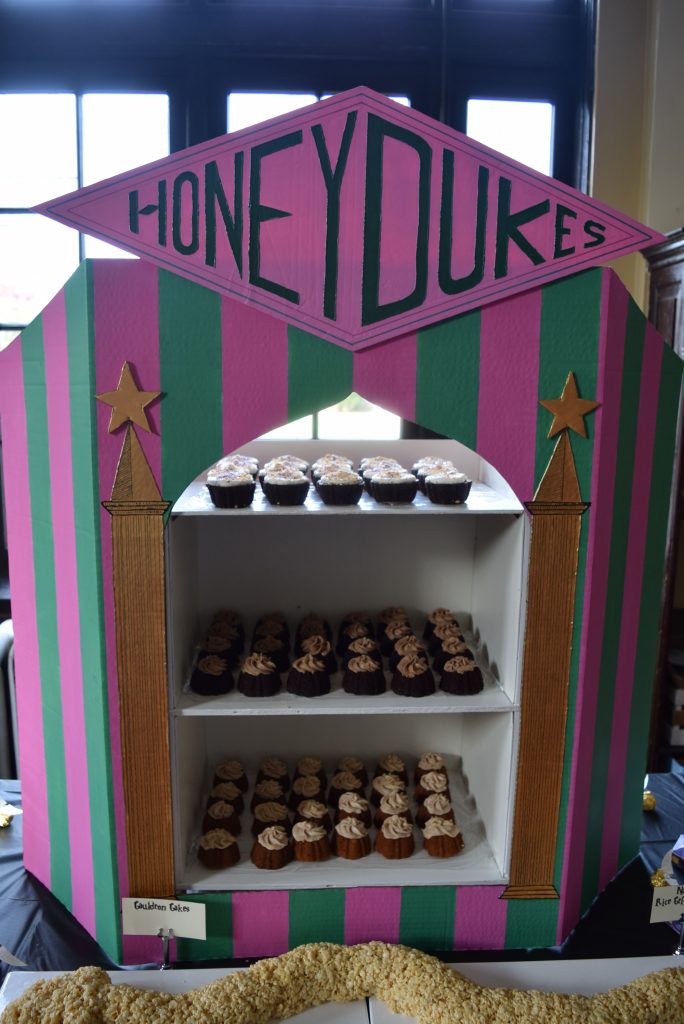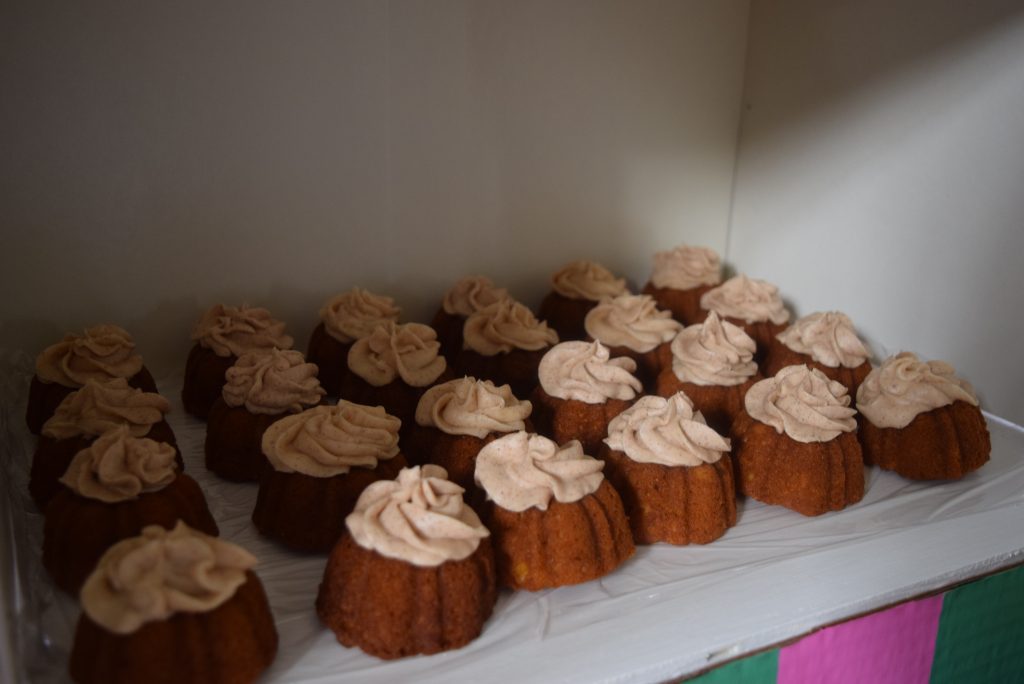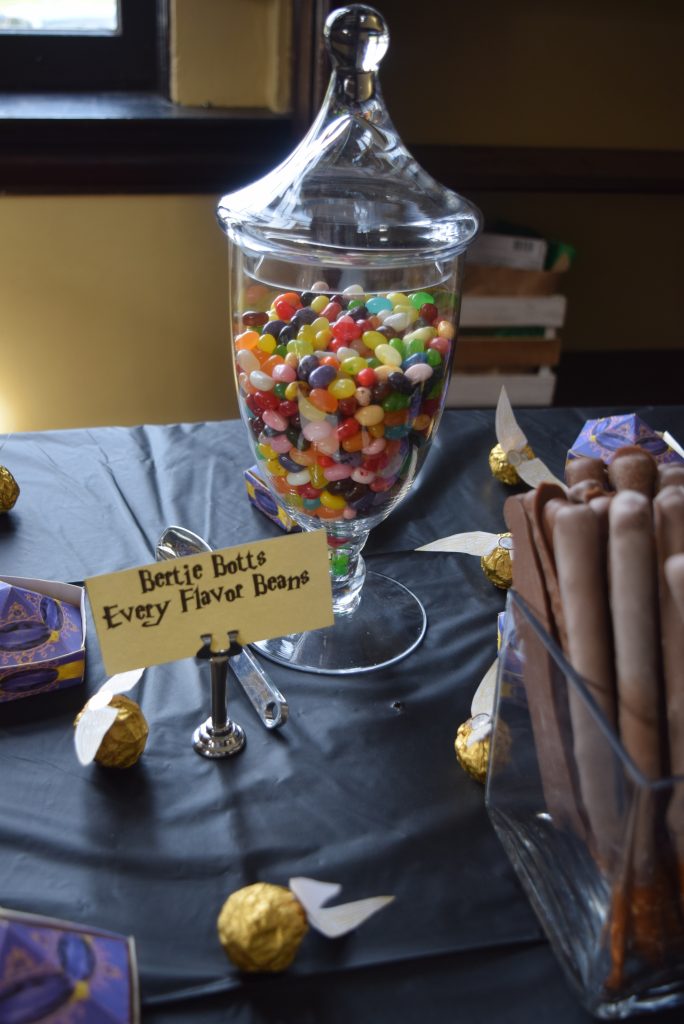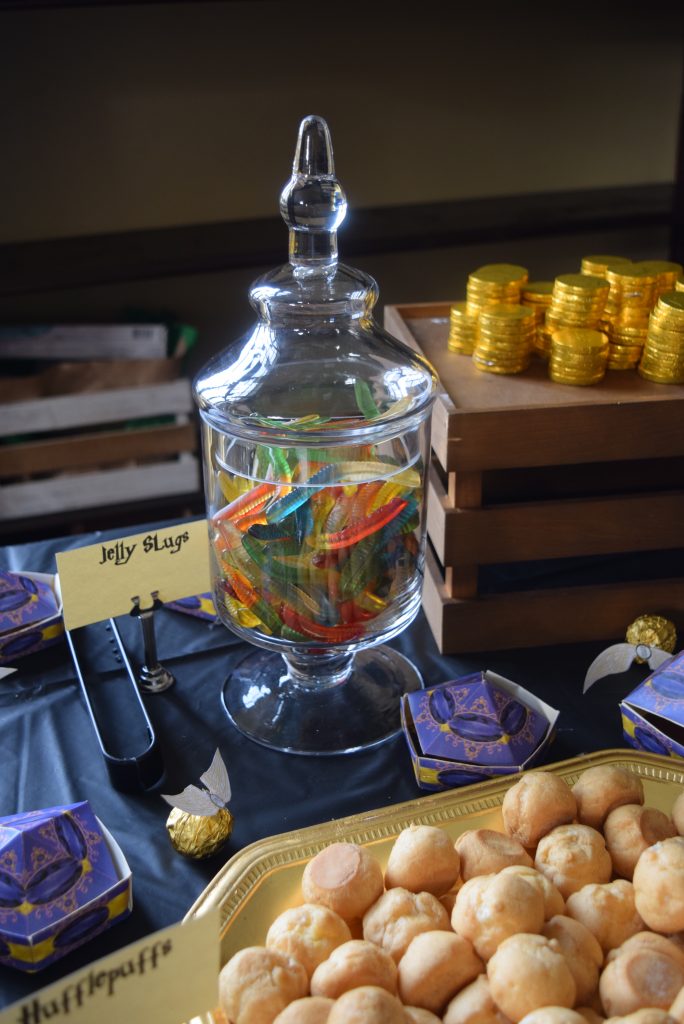 10. Gringott's Coins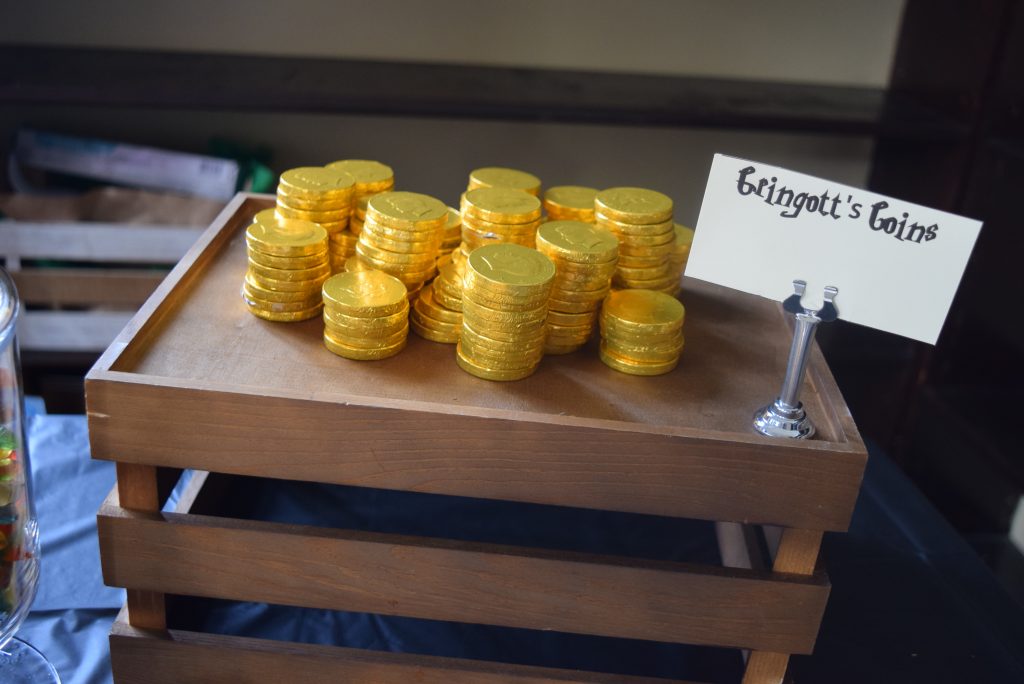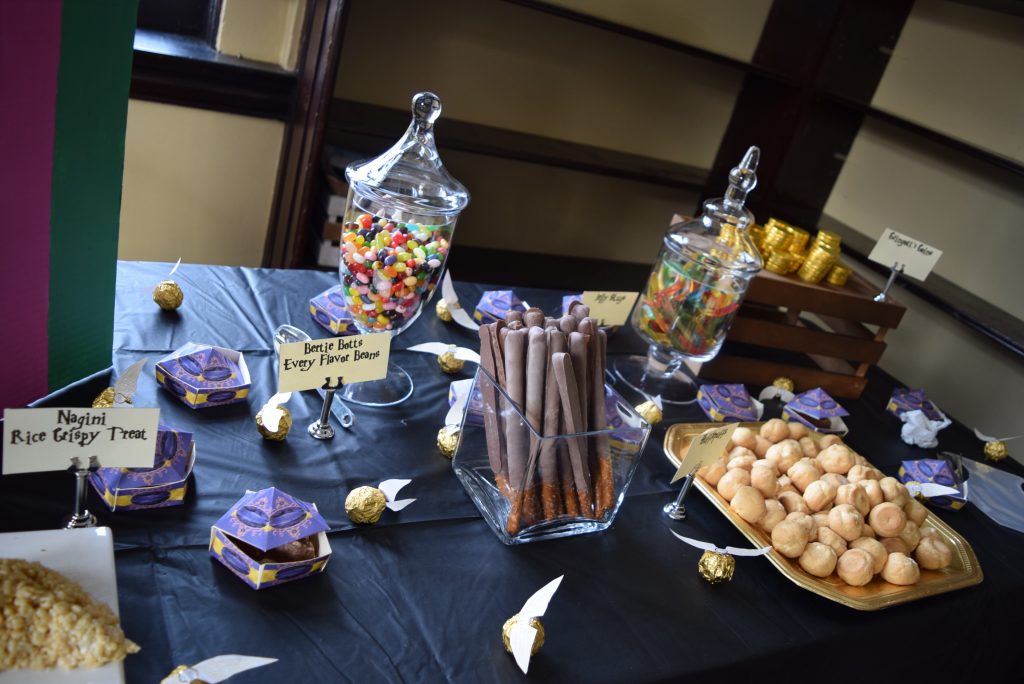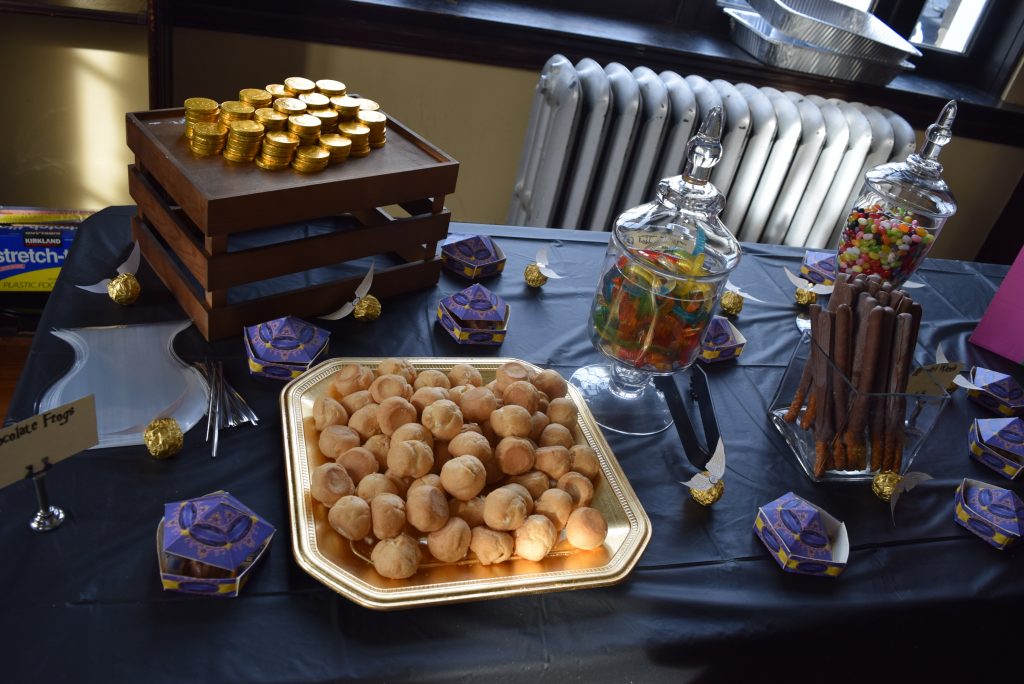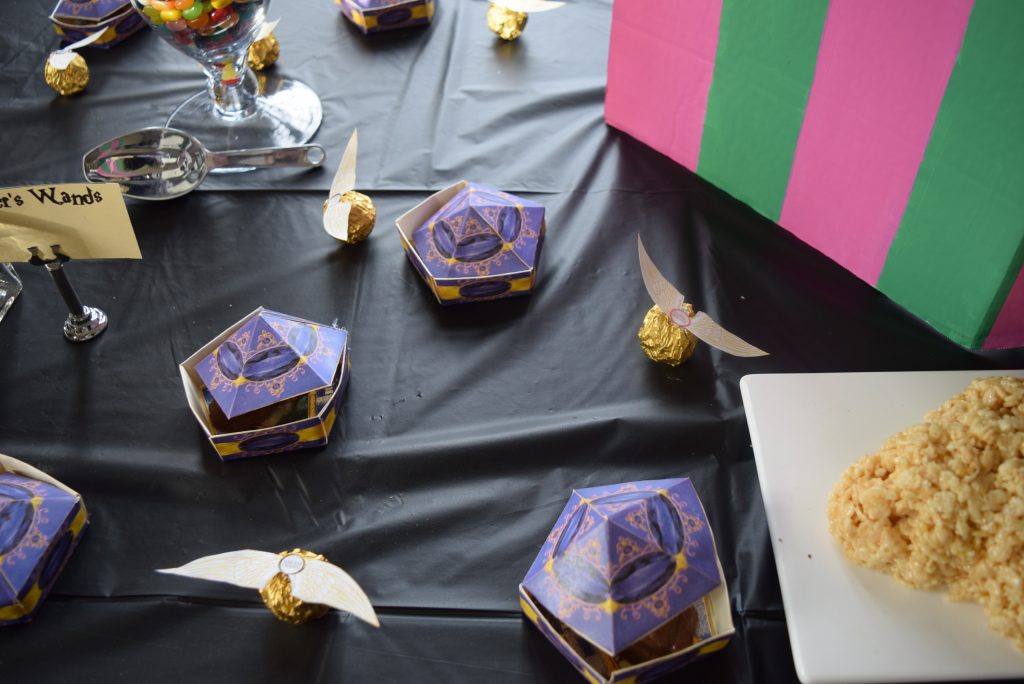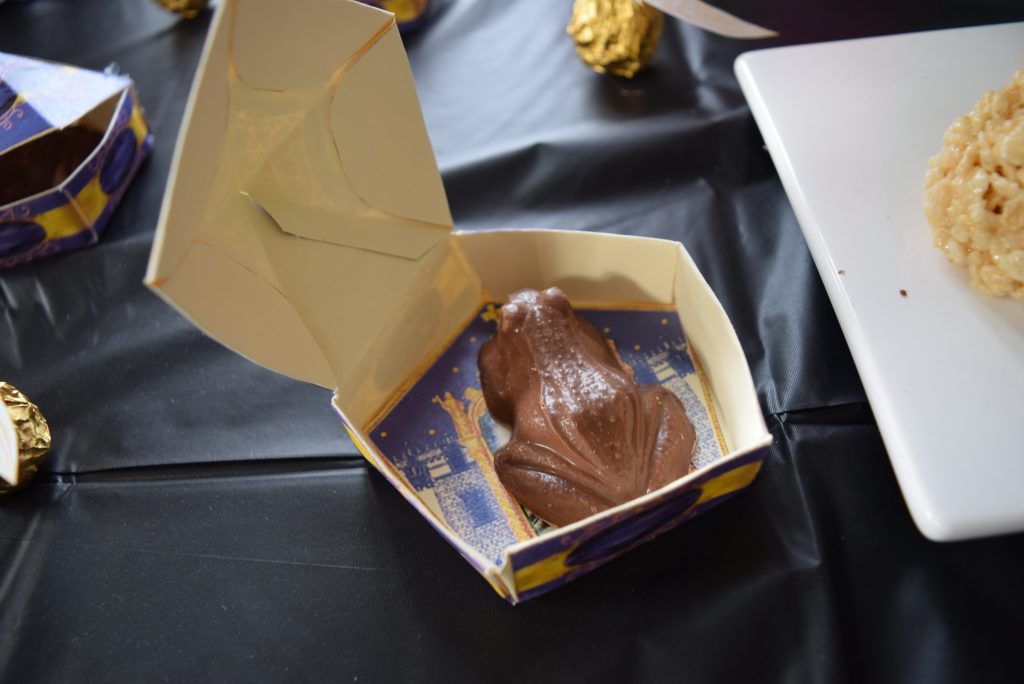 11. 'Nagini' Rice Crispy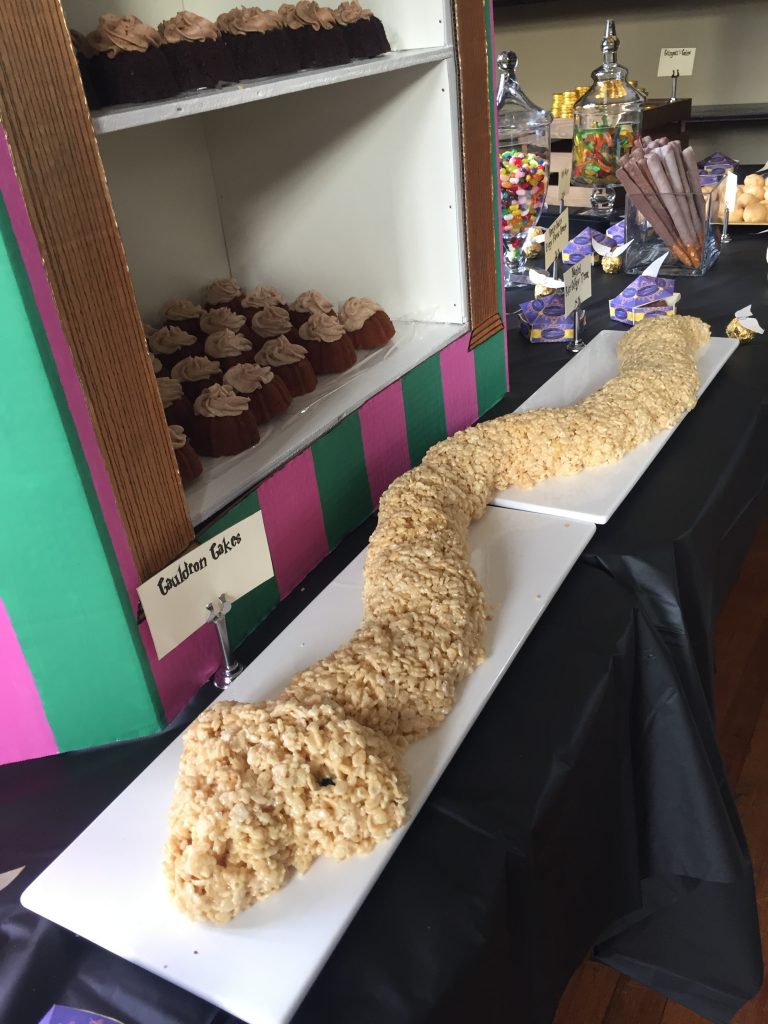 12. 'Mischief Managed' Cake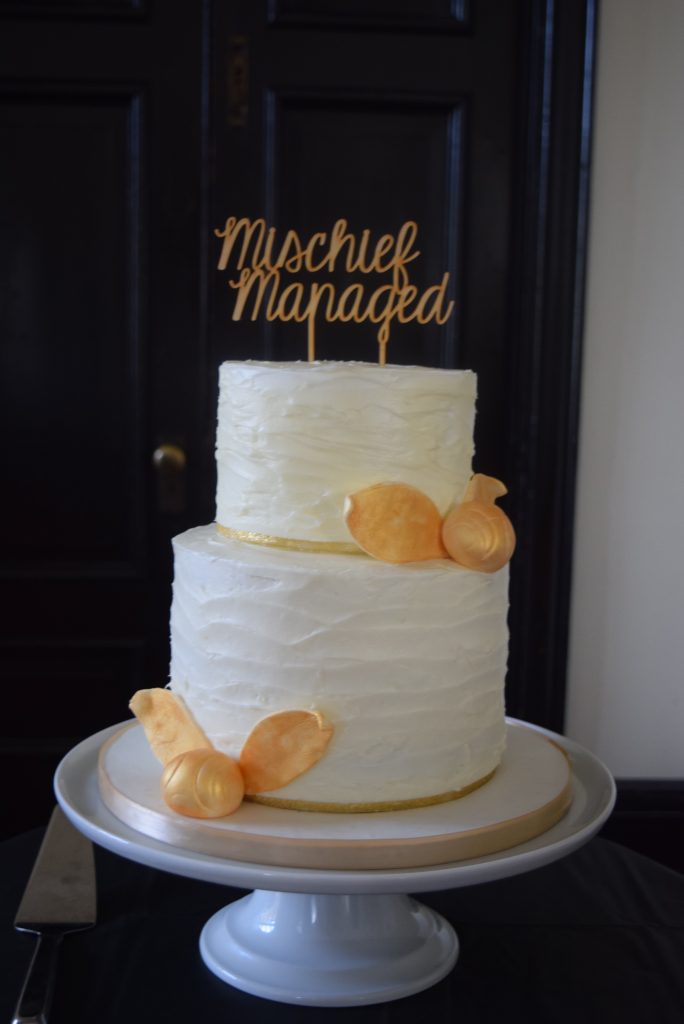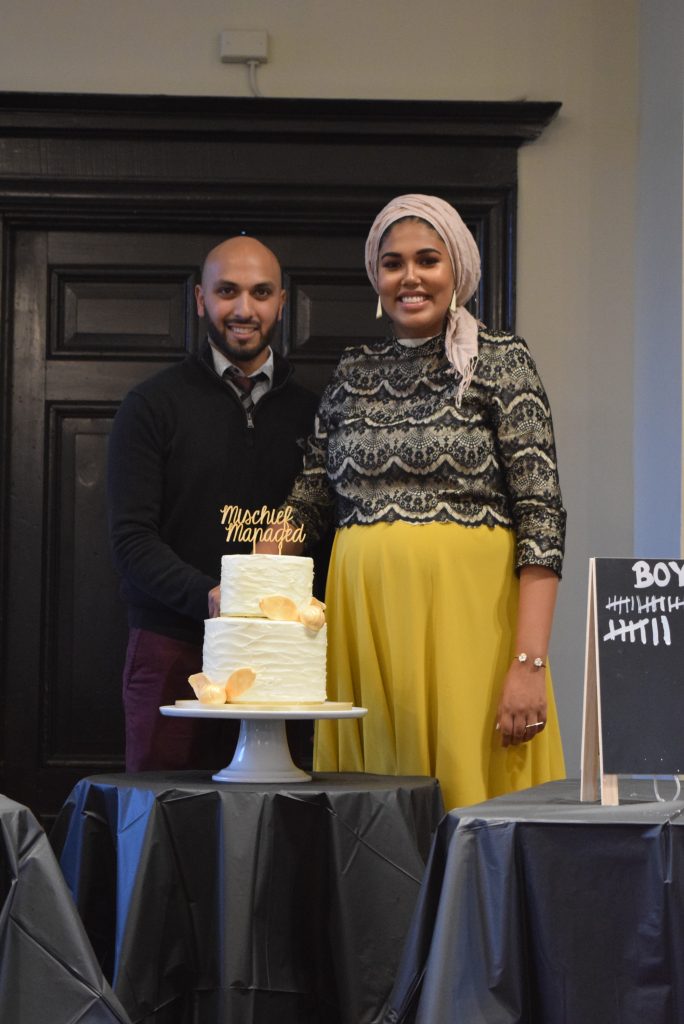 13. Sorting Hat Gender Reveal
Because this baby shower was also a gender reveal, we wanted the guests to mark their guesses of boy or girl. It was only fitting to use the sorting hat from the first Harry Potter book to reveal the gender.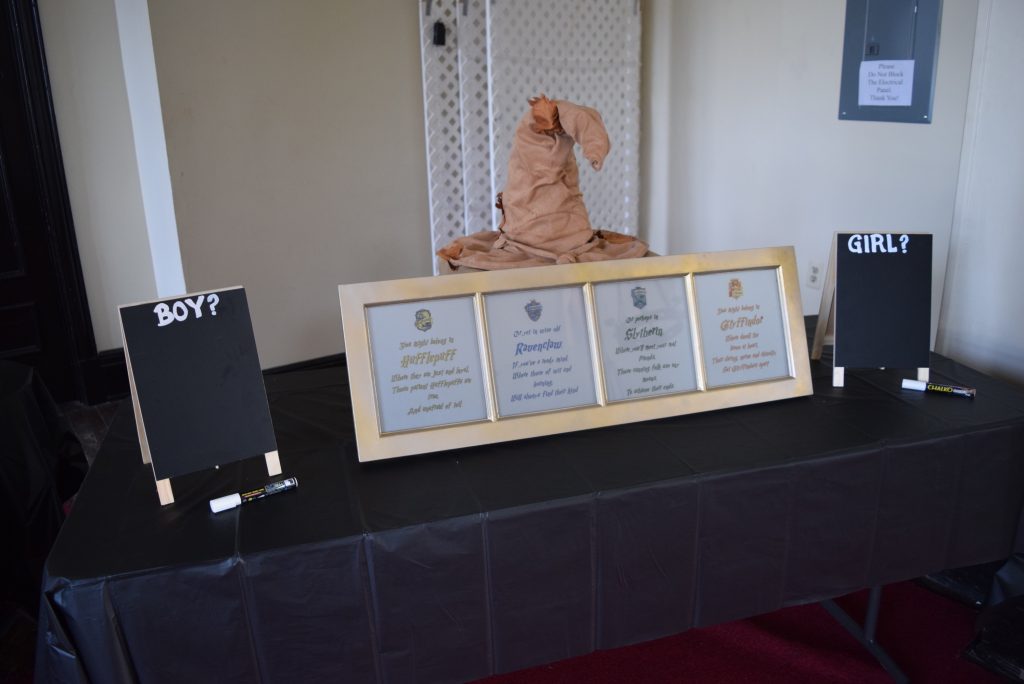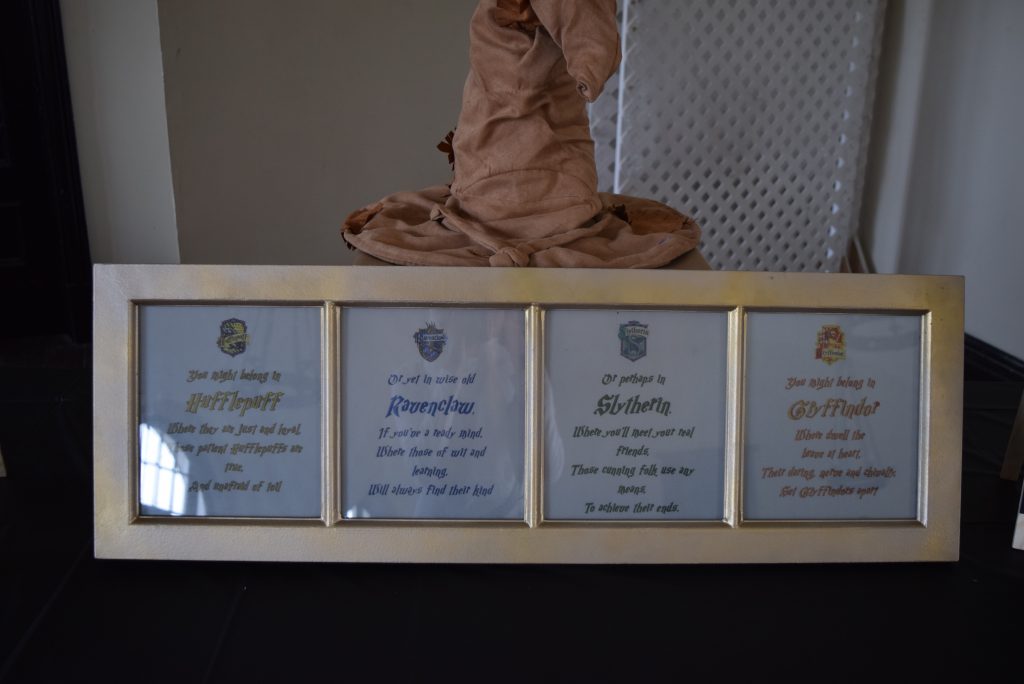 For the actual gender reveal, my brother and sister-in-law gave the illusion of mixing a potion. They dropped a bath bomb into a 'cauldron' and waited for it to dissolve to reveal the color!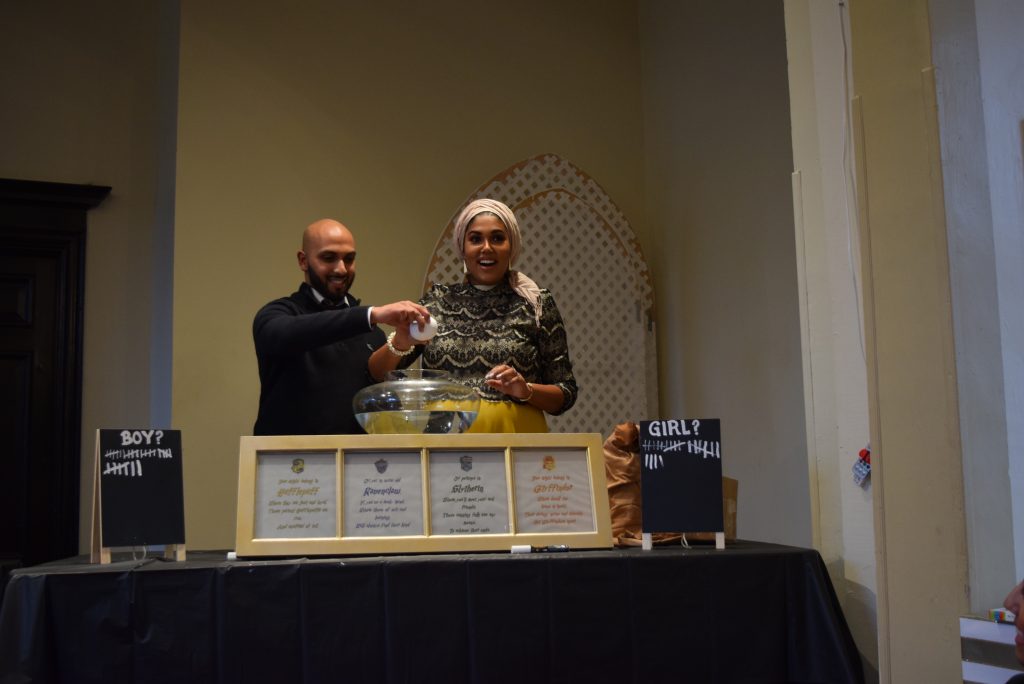 Here goes nothing!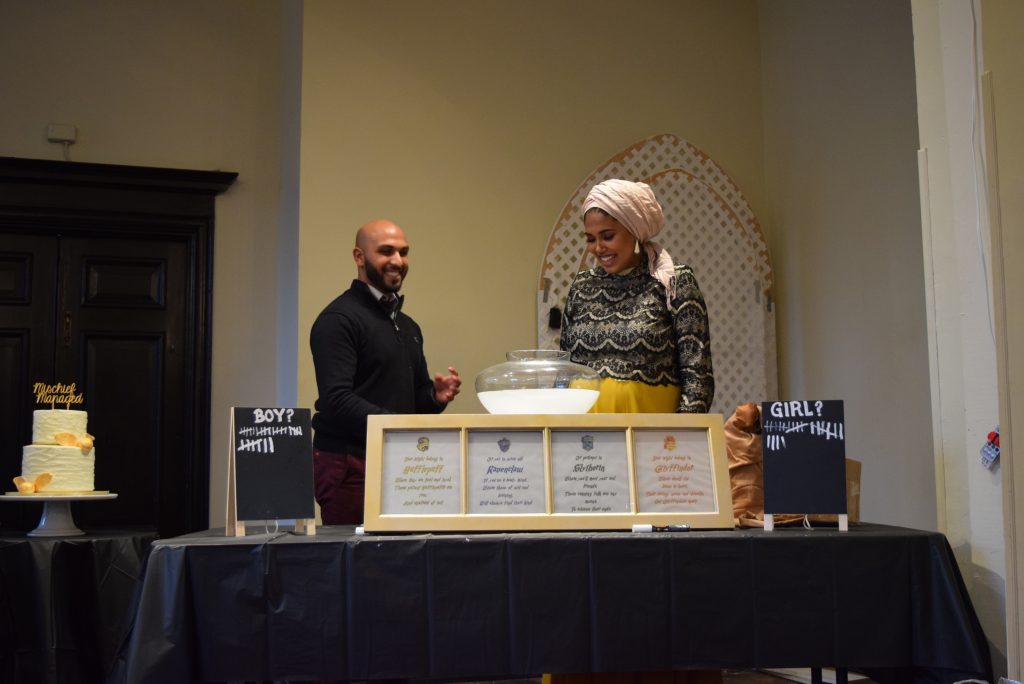 Hmm, is it working?!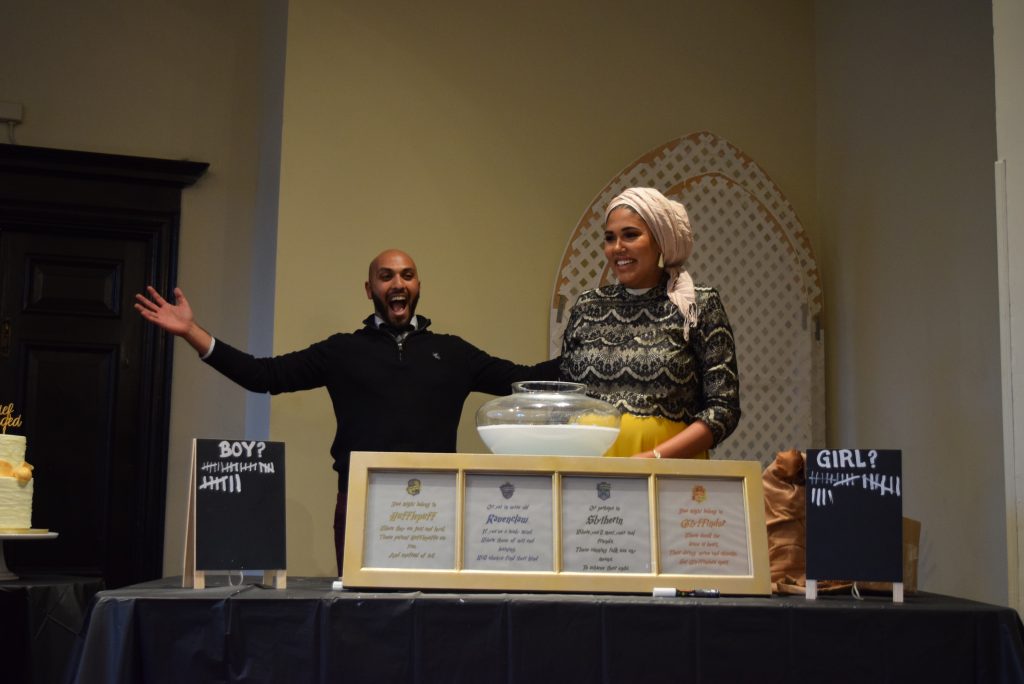 Starting to reveal the color!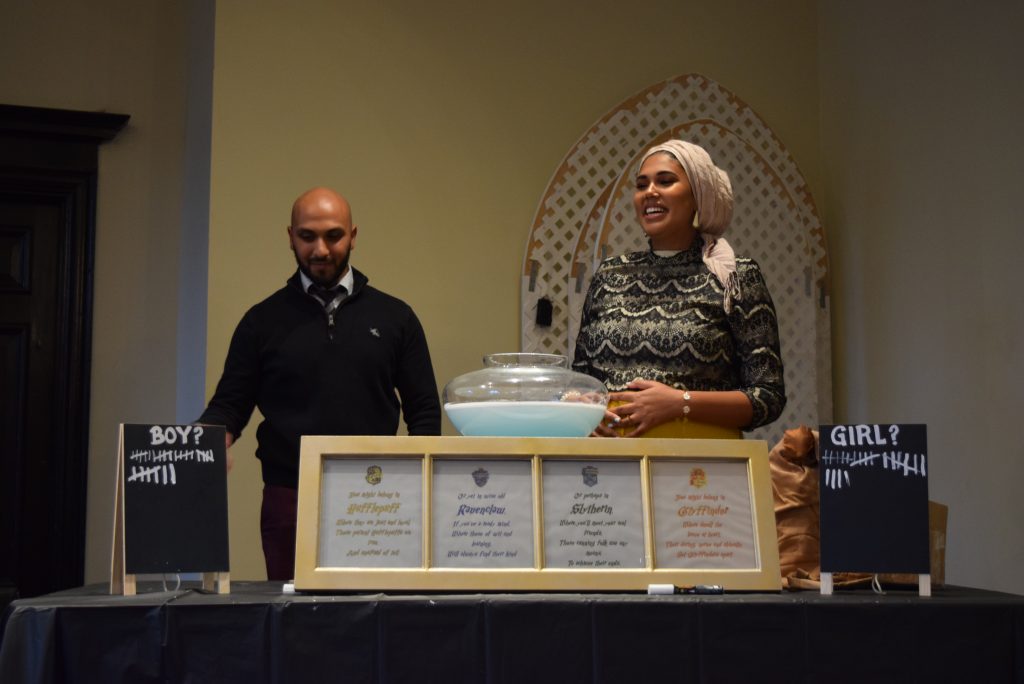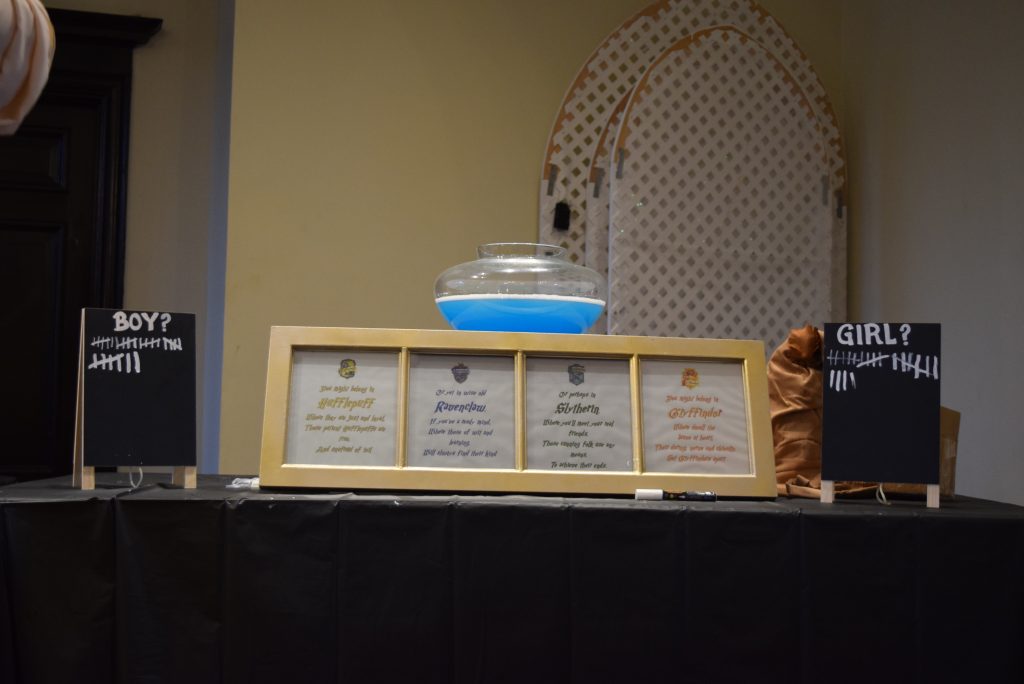 IT'S A BOY!!!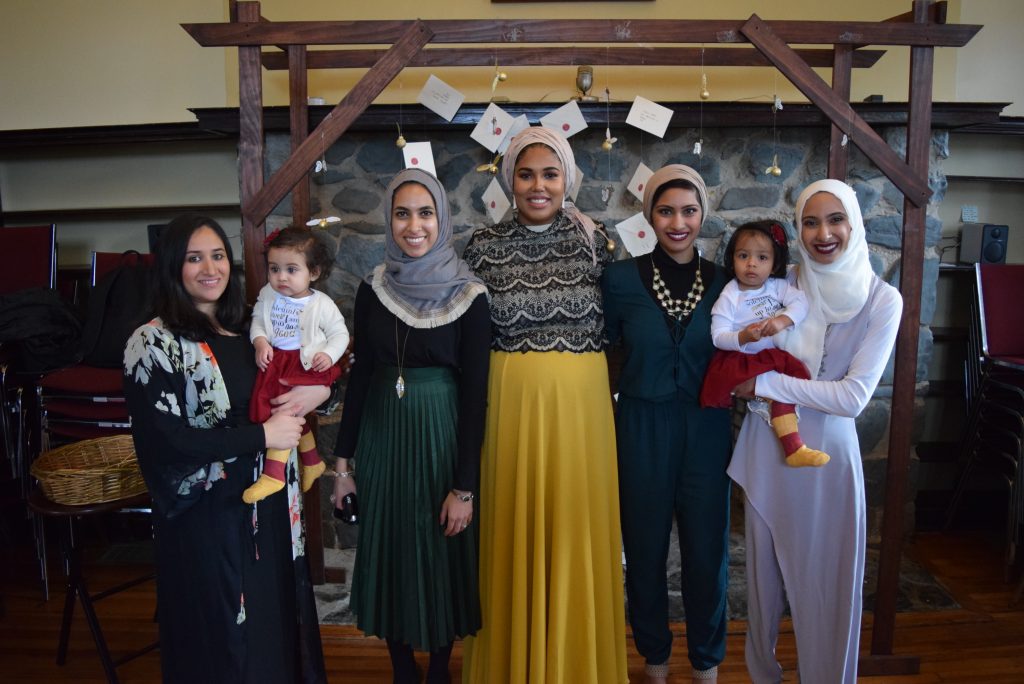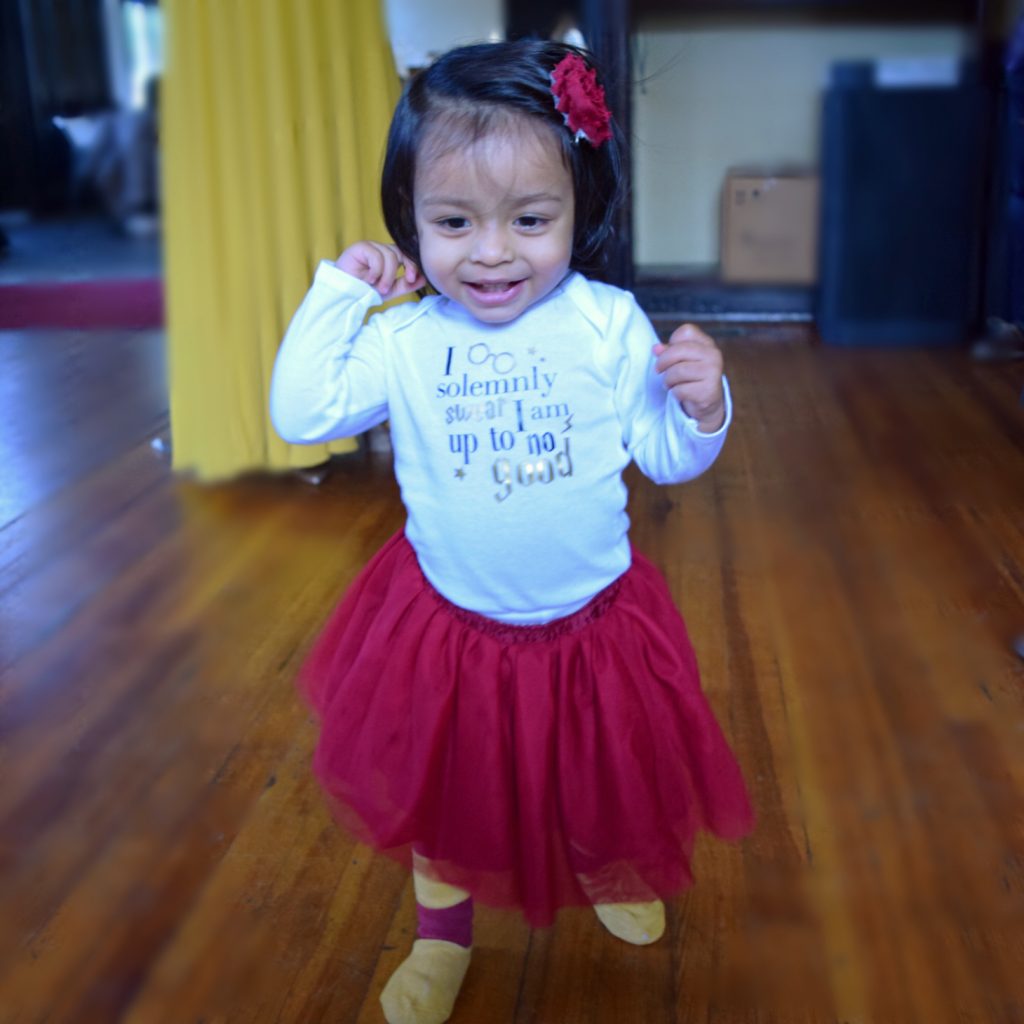 Our babies were definitely the stars of the show! Their outfits were just the cutest!
Products from Amazon.com
‹
›
Well there you have it all you Harry Potter fans! I know this was a super long post but I hope it was worth it! We had so much fun planning and executing this magical Harry Potter themed baby shower for our sister-in-law! I hope you were able to get some ideas for your Harry Potter themed party and be sure to share it with us.
Don't forget to Pin on Pinterest and leave a comment below with your thoughts! For collaborations, email hello@thehadylife.com
-Mini Cauldron Cakes: Razz: Bundts & Blondies
-Mischief Managed Cake: Little Cupcakery
XOXO.
For my other DIY posts, click HERE
---