Lifestyle Favorites | October 2017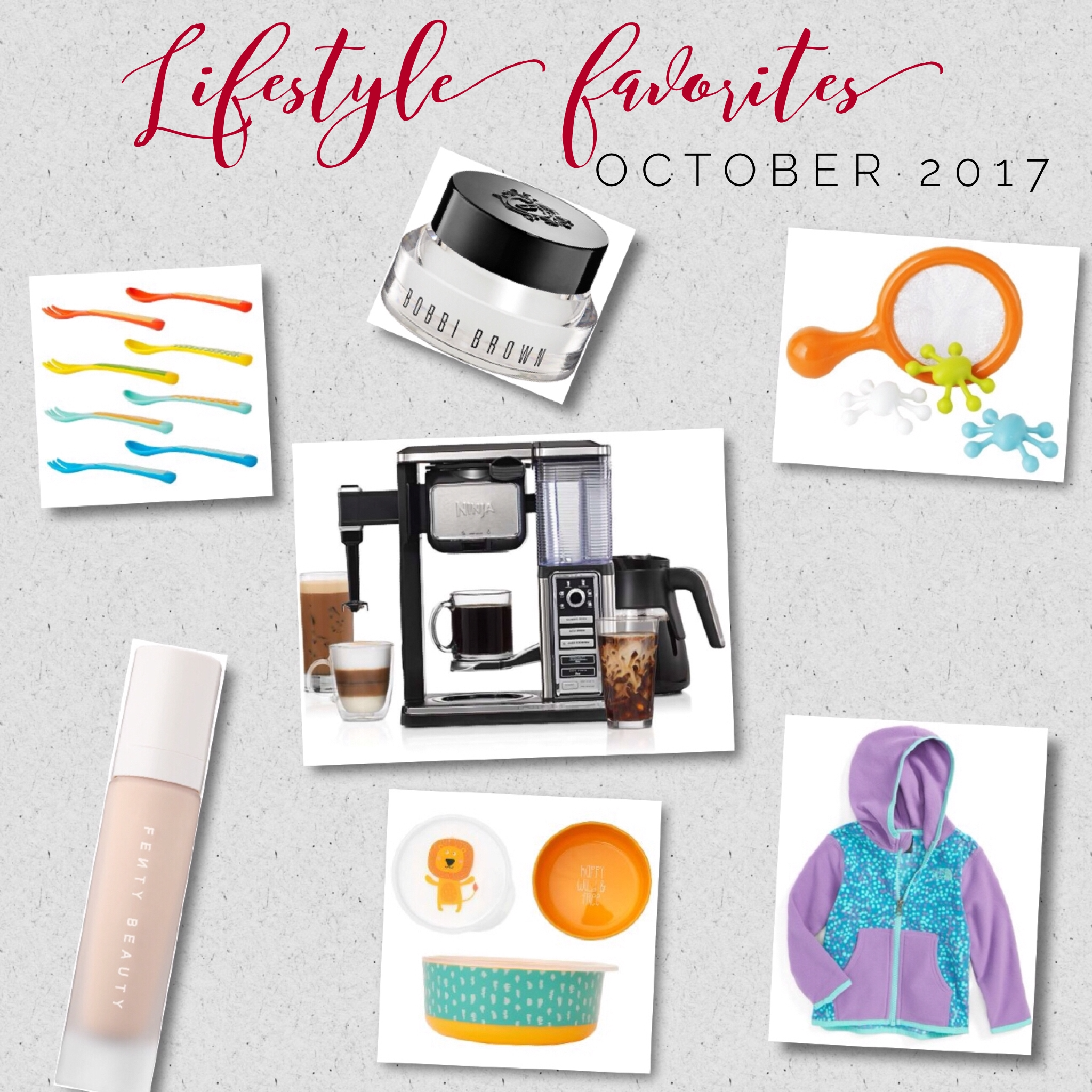 Lifestyle Favorites
October 2017
It's already November, I can't believe how fast October came and went! It was a great month, I celebrated my birthday, went to a pumpkin patch festival with Hoda and took her on her first trip to the aquarium! Today, I'm sharing a few of my favorite lifestyle items from the past month including tasty treats, beauty items, home goods and a few toddler items.
Home Goods
If you know me, you know I am obsesed with having my morning coffee. I pretty much can't live without it. We FINALLY decided to purhase a coffee machine which im so happy about! It makes a variety of different drinks including lattes. It has a built in frother that I just enjoy playing with. We have been using this since the day it came in so safe to say it was a good investment.
Products from Amazon.com
‹
›
Beauty
I have a few beauty items I'm obsessed with this month. All because of Rihanna's new beauty line, Fenty Beauty. Also in the fall/winter my skin acts up so I decided to take my skincare a little seriously this month and hopefully I can continue it.
I used my points to get this eye cream from Sephora a while back but I never got the chance to use it until recently. Now that I've been using it for a while I can say that it is definitely hydrating. I use it before applying foundation/concealer to make sure the products glide on as well as every night before bed. I noticed less puffiness and under eye bags in the morning.
I recently purchased the Fenty Beauty Foundation and have been using it EVERYDAY! This new foundation had me saying goodbye to all my old ones. First of all, I was able to find the perfect match. Second, it's so lightweight that if I want a natural toned look, I'll put on a small amount and if I want a full coverage look, I can build it up but it will still look so natural and never cakey. I highly recommend this foundation you guys! You have to try it for yourself.
The second item I'm currently obsessed with is the Colourpop liquid lipsticks. The first time I bought colourpop was in 2015 and I used their products pretty much everyday. Since then they came out with so much more products but I never got the chance to order from them again until recently. I cleaned out a ton of lip products from my make up collection because they were all expired so I decided to fill it back up with new products. Colourpop was the obvious choice since everything is so inexpensive. Literally $5-$6. I bought a few things including:
'951' Ultra Satin Lip
'Curvii' Ultra Glossy Lip
'Mamacita' Ultra Matte Lip
"Sauce' Lippie Stix
'Faded' Lippe Stix
Check it out for yourself, you will be surprised and how many amazing products they have!
Tasty Treats
Now that Hoda can eat anything, I'm always looking for healthy and on the go snacks. I love the Annie's brand of organic snacks. They have a ton of variety including cookies, crackers fruit snacks, granola bars etc. They taste so good even I love them. Hoda enjoys them and they are an all organic brand so it's a win. You can get a variety pack of 36 from Amazon. Pretty good deal!
Mommy/Toddler
I picked up these bowls, fork and spoons from Target to store hoda's food and for on the go meals. The designs on them are so cute and Hoda loves using the spoons and forks to feed herself. The utensils are easy enough for her to handle on her own.
I kinda splurged on this baby North Face jacket for Hoda last year when she was only 6 months old. She is 16 months now and it is still going strong. The sizes run a lot bigger because she still fits in it comfortably and most importantly it provides good warmth. My favorite part is the hoodie because it stays on snug and doesn't fly off. It was definitely a good investment since it will last 2 winters.
I bought hoda a new bath toy because why not?! I bought this one from the brand Boon. The first time I put it in the water, she was scared of it and ran away from it. Then it I realized that of course she would be scared of it, it looks like spiders! Hahaa! Now that she knows its a toy she loves it and I love it because bath time is fun and easy.

---